2016.07.20 Wednesday
体験レッスン Meet Macrobiotics!
JUGEMテーマ:マクロビオティック
(English is below)
正食クッキングスクールの体験レッスンが始まります♪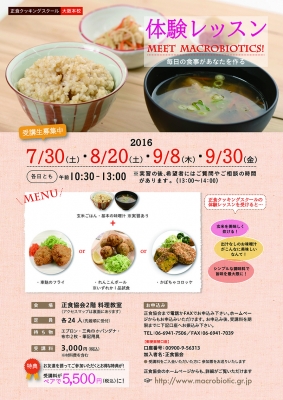 「食」を変えて健康になりたい方、お料理を楽しみたい方お待たせしました。料理が苦手な方も、主婦歴何十年の方も、新米ママさんも、もちろん男性の方も、是非正食クッキングスクールの美味しいマクロビオティックを体験してください!もちもちの美味しい玄米の炊き方、出汁なしなのにふかーいお味のお味噌汁など、シンプルでありながら素材の旨味を引き出すマクロビオティック料理を体験していただけます♪ペアでご参加いただくとお得な特典もあります!
日程:7/30(土)・8/20(土)・9/8(木)・9/30(金)
時間:10:30〜13:00(その後、個別相談時間あり 最終14時まで)
メニュー:玄米ご飯・基本の味噌汁・おかず(車麩のフライ、れんこんボール、かぼちゃコロッケのうち1品)
料金:3,000円 ※お友達と参加いただくとペアで5,500円に!
詳細はコチラ↓
http://www.macrobiotic.gr.jp/cookingschool/taiken.htm
お申し込みはコチラ↓
https://ws.formzu.net/fgen/S42082597/
Meet Macrobiotics! New Cookery Trial Lessons for all at the Japan Macrobiotic Association
We are pleased to announce that we are starting our new macrobiotic trial classes, designed to fulfill the needs of all those who want to restore their health by changing their diets, or even for those who just like to enjoy natural cooking!
Even if you don't particularly like cooking, or you already are an expert in the kitchen, or even in case you just want to learn how to cook healthy and delicious dishes for yourself and your family, our hands-on introductory lessons will help you finding new and inspiring ways to create delicious and healing plant-based dishes, using high quality ingredients and macrobiotic energetic cooking methods.
After each trial class, consultation time is available between 13:00 and 14:00 for all those who wish to ask questions privately.
Trial Lessons Schedule:
July 30th, Saturday, 10:30~13:00
August 20th, Saturday 10:30~13:00
September 8th, Thursday, 10:30~13:00
September 30th, Friday, 10:30~13:00
Price
Single ticket: 3000 yen
Promo 2-persons ticket: 5500 yen
Menu
Brown Rice
Basic Miso Soup (made with no dashi)
One side dish (chosen among: deep-fry gluten wheals, pumpkin croquettes, lotus root balls).
Interpretation service available (English, Italian) upon request. For further details and enquiries please contact: main@macrobiotic.gr.jp
We are looking forward in hearing from you soon.